I will start this year with old books that I didn't get to read in 2016 but also with fresh ones that I'm dying to read.
The Girl on the Train by Paula Hawkins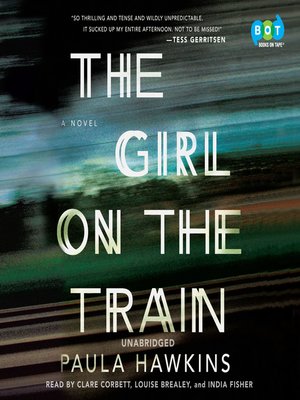 Synopsis:
EVERY DAY THE SAME
Rachel takes the same commuter train every morning and night. Every day she rattles down the track, flashes past a stretch of cozy suburban homes, and stops at the signal that allows her to daily watch the same couple breakfasting on their deck. She's even started to feel like she knows them. Jess and Jason, she calls them. Their life—as she sees it—is perfect. Not unlike the life she recently lost.
UNTIL TODAY
And then she sees something shocking. It's only a minute until the train moves on, but it's enough. Now everything's changed. Unable to keep it to herself, Rachel goes to the police. But is she really as unreliable as they say? Soon she is deeply entangled not only in the investigation but in the lives of everyone involved. Has she done more harm than good?
2. Commander in Chief by Katy Evans 
Synopsis:
The sizzling second installment of the White House series, by New York Times and USA Today bestselling author Katy Evans.
We fell in love during the campaign.
The stakes were high.
Reputations could have been ruined.
Scandal hovered over us like a cloud.
Now the man I love is the President of the United States of America.
And its not my vote he is after.
He wants it all.
My heart. My body. My soul.
He wants me by his side.
In the White House.
Normalcy will be gone from my life, privacy forgotten.
I am only twenty three. I just wanted to play a part in history. But it seems like history wasn't done with me. The part where I lost my heart to Matthew Hamilton? It was only the beginning…
3. It Ends with Us by Colleen Hoover
Synopsis:
Lily hasn't always had it easy, but that's never stopped her from working hard for the life she wants. She's come a long way from the small town in Maine where she grew up – she graduated from college, moved to Boston, and started her own business. So when she feels a spark with a gorgeous neurosurgeon named Ryle Kincaid, everything in Lily's life suddenly seems almost too good to be true.
Ryle is assertive, stubborn, and maybe even a little arrogant. He's also sensitive, brilliant, and has a total soft spot for Lily, but Ryle's complete aversion to relationships is disturbing.
As questions about her new relationship overwhelm her, so do thoughts of Atlas Corrigan – her first love and a link to the past she left behind. He was her kindred spirit, her protector. When Atlas suddenly reappears, everything Lily has built with Ryle is threatened.
4. Everything for Her by Alexa Riley
Synopsis:
'll never forget the way she looked, so confident and sure of herself. I watched her from a distance. She wasn't ready for me yet. I didn't approach her and I didn't disturb her, but I never once took my eyes off her.  
Mallory Sullivan is ready to start her new life. After graduating at the top of her class, she's landed one of the most coveted internships in the United States. Hard work and determination have gotten her to this moment of living the life she only dreamed of while growing up in foster care. 
From the start, I knew that she would be my greatest achievement, so the day I let her go, I set down a path for her. A path to me.  
She never expected Oz to be the greatest culmination of those dreams. But sometimes fate determines who you fall in love with. Who makes you lose control. Who owns your soul. 
And then you realize it wasn't fate at all… 
5. The Collector by John Fowles
Synopsis:
Withdrawn, uneducated and unloved, Frederick collects butterflies and takes photographs. He is obsessed with a beautiful stranger, the art student Miranda. When he wins the pools he buys a remote Sussex house and calmly abducts Miranda, believing she will grow to love him in time. Alone and desperate, Miranda must struggle to overcome her own prejudices and contempt if she is understand her captor, and so gain her freedom.
6. Punk 57 by Penelope Douglas
Synopsis:
Misha: I can't help but smile at the words in her letter. She misses me.
In fifth grade, my teacher set us up with pen pals from a different school. Thinking I was a girl, with a name like Misha, the other teacher paired me up with her student, Ryen. My teacher, believing Ryen was a boy like me, agreed.
It didn't take long for us to figure out the mistake. And in no time at all, we were arguing about everything. The best take-out pizza. Android vs. iPhone. Whether or not Eminem is the greatest rapper ever…
Ryen: He hasn't written in three months. Something's wrong. Did he die? Get arrested? Knowing Misha, neither would be a stretch.
Without him around, I'm going crazy. I need to know someone is listening. It's my own fault. I should've gotten his number or picture or something.
He could be gone forever.
Or right under my nose, and I wouldn't even know it.
7. Of Light and Fire by Gina Shafer
Synopsis:
I can still feel the magic sometimes, lingering like an old friend. It was everywhere, and its flame burned bright inside everyone. We are born from it, made of it – of light and fire.
For as long as he can remember, Elijah and the Brotherhood of The Sicarri have been at war against the Demons – the ones who have been twisted and burned by their greed for the flame of magic. After Elijah gets a troubling phone call from a fellow Sicarri brother, he must leave his wife and son behind to save his friend. When things don't go as planned, his world is sent into chaos.
In the midst of death and destruction, Elijah must try to salvage the relationships he has with those closest to him while navigating the treacherous waters of love and betrayal. Can he exact his revenge on those who tore apart his old life? And will he be able to control his own fire raging within?
Fingers crossed for me to 100% succeed this month:))
Ramona