Hi guys! This is my first book Tag, so please go gentle on me:) I was nominated by my happy friends from The Fictional Universe and thank you so much for this experience:) So, here goes nothing:)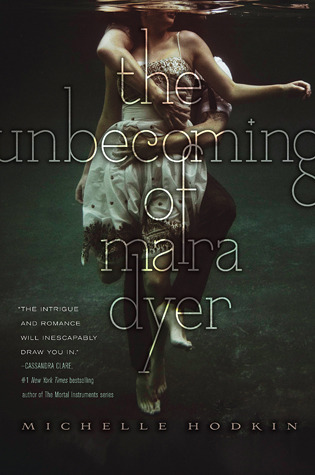 The Unbecoming of Mara Dyer by Michelle Hodkin
This book managed to get me out of my comfort zone and blew my mind away. I loved every minute of this series, beginning with the characters and plot. Michelle's style was so researched, so well put together that it literally keeps you hanging every page. A love story, action, horror, suspense, mystery, everything in only 350 pages:) Love love:)
Voyager by Diana Gabaldon
This is the 3rd installment in the "Outlander" series and I LOVED IT! Every book is a new adventure for me, but this one was packed this so much anticipation and thrill, because we all know that Jamie and Claire were separated by the end of book 2 and now they will see each other after 20 years. I cried so much and was a wreck until I saw my favorite couple reunite:)
Framed by Ronnie O'Sullivan
Ronnie is my favorite snooker player and recently he has found his artistic side and inspiration. "Framed" is a crime novel that has glimpse and pieces of his real life, combined with a very interesting plot that includes mystery, action and investigation. I am really curious about it and hope to discover it a.s.a.p.
Dreams of Gods and Monsters by Laini Taylor
I am counting the days until this book appears in Romanian and I am sure it will be HUGE. Laini is a very special writer for me, being one of the most complex and interesting in style. Her characters are amazing and combining it with a "La Fontaine" world, it transports you in a truly breathtaking world, were good fights evil and loyalties are divided.
Never Never series by Colleen Hoover and Tarryn Fisher 
Why worst when it started very well? Yes, the first book was amazing and my expectations were stellar about the installments. But they turned out to be flat, disappointing and dull. I just turned page by page hoping to find something that can give me a glimpse of the first book, but there was none. The final was shockingly boring and mundane.. nothing special:)
Michelle Hodkin is my favorite author for 2017 so far. I loved the Mara Dyer the series and Michelle has all the credit for it. I loved the world that she created, the characters, the way she developed the plot. I could see how much research she put in her work and the result is more than visible. She rocked the series and brought such complex characters, that aren't good or bad, just plain normal that face extreme situation. They had relatable qualities and lacks and reading this book overdrove my senses completely.
Hotness on a stick and doing a suit like he was born in it? Yap, Vaughn Tremaine from Samantha's Young "Every Little Thing" is that guy and I loved his intensity and complexity as a character. He is amazing as a business man and as a lover, doing business with the same intensity he loves. He is straight forward, a man of action and loyal to only one girl, Bailey. His friends believe he is too stiff and no fun, but deep inside, Vaughn has his reasons for staying away. I hope you read this book and discover this great hero:)
The Return by Jennifer L. Armentrout
This book isn't particularly happy, but I loved the sarcasm and the irony inflicted in the dialogues, they absolutely spiced the plot. Seth and Jodie were amazing together and after each important scene I had a huge smile on my face, because I loved this couple so much and really believed they were meant to be. This book left me wanting for more, and I am looking forward to 2018 for the sequel:)
The Fault in Our Stars by John Green is THE ONLY BOOK that made me cry. I don't cry at books, I am socked, tense, upset, hanged over, but I don't cry. So for me, this book was a surprise. Hazel and Gus were the only ones to strike a sensitive chord and let my emotions get the best of me. But I think it was right to actually cry at this book, because there is no way getting over it without doing so 🙂 Ok? Ok:)